Philips Lighting Luminarie Takes LED Accent Lighting to a New Level
2013-10-20 Source:
Accent lighting is an approach used to create an emotional tug in ways general lighting or static integrated lighting systems typically cannot achieve. If you are looking for an accent lighting solution that provides beam flexibility, superior "candlepower punch" and maximum light output at minimum watts per square foot to meet the latest ASHRAE codes, the following lighting solution is your best pick to meet your retail & hospitality project needs. Discover now how PHILIPS LIGHTOLIER Alcyon LED Vertical is taking LED accent lighting to the next level!
Alcyon LED Vertical is a single-optic LED platform designed with a balance of form, function and performance. The sleek, cylinder design offers unprecedented efficiency, visual comfort, four beam spreads and industry leading "candlepower punch" to provide designers with the creative license to design with light. Its interchangeable "Smart Faceting Reflectors" features the best combination of flexibility and visual performance all in one modular design. Isn't it great to have this design flexibility? And to further enhance the environment, ALCYON LED VERTICAL comes with multiple accessories including unique film diffuse and spread overlay options to customize the lighting effect.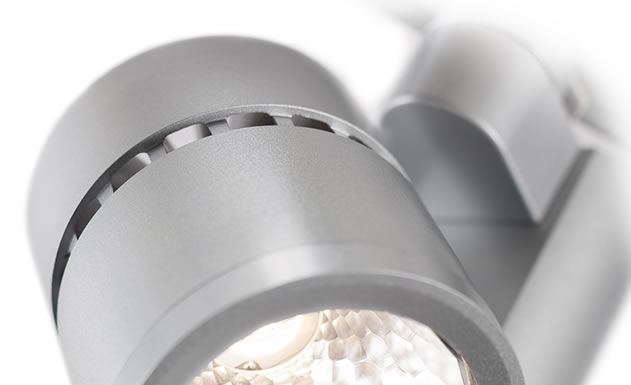 Philips Lighting's New LED Accent Lighting product, the Alcyon LED Vertical. (LEDinside/ Philips Lighting)
To complete the family offering, Alcyon LED is also available in 1, 2, 3 and 4 head configurations. The recessed units utilize the same LED technology and reflectors as the track heads, providing performance consistency and design continuity within a space. For onsite flexibility, the recessed units are designed with a tool-less, field adjustable aiming and pull down feature. This allows customers to choose for either a clutter free look or targeted beam of light on the merchandise or display.
Features:
Sleek, cylinder shape designed with a single optic LED platform
Market leading efficiency and "candlepower punch"
1000 lm 10° 24000 Center Beam Candle Power (CBCP)
600, 1000, or 2000 lumens
Efficacy: up to 67 lumens per watts
4 beam angles: Narrow Spot, Spot, Narrow Flood and Flood
2700K, 3000K or 4000K
CRI 80-85
Interchangeable reflectors
Black, White and Aluminum color finishes (black and white only for RM)
Dimmable (contact factory for recessed multiple controls options)
Lifetime: Expected lifetime 50,000 hours and backed by a limited 5-year warranty
Energy Star certified (pending)
QuickShip options available
Recessed multiple available January, 2014